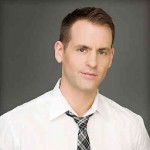 • Matt Breen, Editor in Chief of "The Advocate" magazine, calls in at 9:30am ET / 6:30am PT to talk about marriage equality news this week
• Syndicated columnist Tina Dupuy calls in at 10am ET / 7am PT to talk about the GOP's war on atheists
• Comedy duo Frangela joins us in the Los Angeles Bureau at 11am ET / 8am PT for another edition of "Fridays With Frangela"
• Speaking to reporters in Myanmar, President Obama was adamant that, despite mounting GOP objections, he will move forward and take executive action to reform the immigration system by the end of the year because reforms are "way overdue."
• A surgeon who was infected with Ebola in Sierra Leone will be flown to Omaha, Nebraska, for treatment this weekend. The doctor– who has not been identified — is from Sierra Leone but is a permanent resident of the U.S.
• Health care open enrollment begins tomorrow. "We're very confident we're going to be in good shape beginning Saturday," said Kevin Counihan, the man charged with running the federal government's insurance marketplaces at HealthCare.gov
• The European Space Agency says its Philae lander is doing well and has succeeded in planting a thermometer in the comet where it touched down this week.