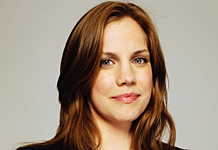 • Anna Chlumsky, star of the HBO comedy "Veep", calls in at 10:50am ET / 7:50am PT to talk about season two of the hit show
• Sexy Liberal John Fugelsang joins us in from the New York Bureau at 11am ET / 8am PT for Fridays With Fugelsang
• The two brothers suspected of carrying out the deadly attacks on the Boston Marathon had originally planned to set off their bombs on July 4, a law enforcement official said.
• U.S. President Obama gave his blessing on Thursday to a new security arrangement with Mexican leader Enrique Pena Nieto, in which Mexico will make reducing violence a priority over hunting drug cartel kingpins in the war against organized crime.
• President Barack Obama said Thursday he was comfortable with his administration's decision to allow over-the-counter purchases of a morning-after pill for anyone 15 and older.
• Rhode Island became the final state in New England and the 10th in the country to legalize gay marriage after independent Gov. Lincoln Chafee on Thursday signed a bill that will allow same-sex marriage.
• Southern California firefighters early Friday were fiercely battling a growing, brush-fueled wildfire that had reached the beach in Ventura County and was pushing toward the upscale city of Malibu, officials said.