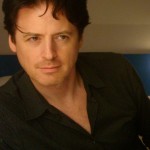 • Sexy Liberal John Fugelsang calls in at 10am ET / 7am PT for another edition of Fridays With Fugelsang
• Debbie Powers, author of "Meeting Her Match," joins us in studio at 11am ET / 8am PT to promote sports participation among women
• Veterans Affairs Secretary Eric Shinseki has no imminent intention of stepping down, he indicated Thursday, flouting a growing chorus of lawmakers and veterans' groups calling for him to do so amid widespread allegations of fraud and abuse at VA medical centers across the country.
• President Barack Obama on Thursday urged Democrats to vote in November elections, saying the chance to pass immigration reform is at risk if Republicans gain control of both houses of Congress.
• The U.N. Security Council committee on al Qaeda sanctions blacklisted Nigeria's Islamist militant group Boko Haram on Thursday after the insurgents kidnapped hundreds of schoolgirls, diplomats said.
• Seven confirmed and three likely cases of E. coli infection linked to raw clover sprouts have been reported, the Centers for Disease Control and Prevention said Thursday. The patients are all in either Idaho or Washington. Half the people who have fallen ill have been hospitalized.