• Director Robert Greenwald calls in at 10am ET / 7am PT to talk about his new documentary, "Koch Brothers: Exposed"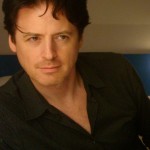 • Sexy Liberal John Fugelsang calls in at 11am ET / 8am PT for another edition of "Fridays With Fugelsang"
• Los Angeles Clippers owner Donald Sterling has sent a letter to the National Basketball Association telling the league he won't pay his $2.5 million fine and rejecting his lifetime ban, according to multiple media reports.
• Under withering criticism, Secretary of Veterans Affairs Eric Shinseki told a Senate committee on Thursday that he was "mad as hell" about allegations of deadly waiting times and coverup at VA hospitals but he doesn't plan to resign.
• It is a rare, strange day when Senate Republicans vote to block billions in tax cuts. But that's what happened Thursday when they chose to freeze the EXPIRE Act, which would extend $85 billion in tax credits, in order to protest how Democrats are running the chamber.
• Temperatures and winds across scorched areas of southern California are starting to subside, but Unruly wildfires keep barreling from one community to another, destroying homes and spawning "firenadoes" — funnels of flames that look like tornadoes. 10,000 acres in San Diego county have burned, and one person is dead.