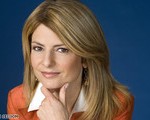 • Attorney Lisa Bloom (Avvo.com) calls in at 9:30am ET / 6:30am PT to talk about the Sandra Bland case in Texas
• John Fugelsang, host of "Tell Me Everything" on SiriusXM Insight 121, calls in at 10am ET / 7am PT for "Fridays With Fugelsang"
• Comedy duo Frangela joins us in the Los Angeles Bureau at 11am ET / 8am PT for "Fridays With Frangela"
• Police said three people, including the shooter, were killed last night in a movie theater in Lafayette, LA. Two died at the scene, including the gunman, and the third in a hospital, Police Chief Jim Kraft said. Authorities said nine other people were wounded.
• Donald Trump yesterday landed in the border town of Laredo, Texas to meet with local officials, speak with law enforcement and tour the border between the U.S. and Mexico that has become a contentious symbol in his campaign for president.
• President Obama today will become the first sitting U.S. president to visit Kenya, the birthplace of his father and a country he views as a strategic economic and security partner for the United States. Obama plans to talk to Kenyan President Uhuru Kenyatta about security and counterterrorism.
• Waller County investigators say no injuries consistent with a violent homicide were found during an autopsy of Sandra Bland, who was found dead in a Texas jail 11 days ago.