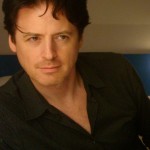 • Comedian John Fugelsang calls in at 10am ET / 7am PT for an hour of "Fridays With Fugelsang"
• Journalist May Lee joins us in the Los Angeles Bureau at 11am ET / 8am PT to hang with us for the hour
• President Obama authorized airstrikes "if necessary" against Islamic militants if they move toward Erbil in northern Iraq where American military, diplomats and civilians are stationed.
• Gaza militants renewed rocket fire on Israel after a three-day truce expired Friday and negotiations in Cairo on a new border deal for the coastal strip hit a deadlock. Israel, in turn, fired rockets at missile sites across the Gaza Strip.
• The World Health Organization on Friday declared the Ebola outbreak in West Africa to be an international public health emergency that requires an extraordinary response to stop its spread. WHO declared similar emergencies for the swine flu pandemic in 2009 and for polio in May.
• U.S. Secretary of State John Kerry on Friday opened a second day of talks in Afghanistan aimed at preventing the fragile country from collapsing into political chaos after disputed elections.
• The National Weather Service has downgraded Iselle, barreling toward the Big Island of Hawaii to a tropical storm from a hurricane. Residents are still urged to take precautions.