• Michael Tomasky of "The Daily Beast" calls in at 10am ET / 7am PT to talk about the possibility of Hillary vs. Biden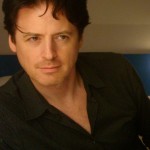 • John Fugelsang, host of "Tell Me Everything" on SiriusXM Insight 121, calls in at 11am ET / 8am PT for Fridays With Fugelsang
• The disgruntled former reporter who killed a WDBJ-TV cameraman and another reporter had been referred by WDBJ to an employee assistance program that provides counseling during the time he worked there, according to the station.
• While campaigning in Ohio Thursday, Hillary Clinton seemed to compare Republican presidential candidates' "extreme views" on women to those held by "terrorist groups." Republicans were quick to fire back and demand an apology.
• Former House Majority Leader Eric Cantor on Thursday endorsed former Florida Gov. Jeb Bush for president. Cantor, who represented Virginia's seventh congressional district from 2001 to 2014, was ousted from office after losing the 2014 Republican primary to an upstart tea party candidate.
• Years after then-presidential hopeful Barack Obama declared "America failed the people of New Orleans," he returned to the city yesterday to hail Hurricane Katrina recovery efforts and highlight the region's resilience in the face of massive devastation.