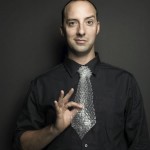 • Actor Tony Hale (VEEP, Arrested Development) calls in at 9:50am ET / 6:50am PT to talk about his new children's book, "Archibald's Next Big Thing"
• Journalist May Lee joins us in the Los Angeles Bureau at 11am ET / 8am PT to hang with us for the hour
• County police in riot gear and armored tanks gave way to state troopers walking side-by-side with thousands of protesters as the St. Louis suburb where an unarmed black teen was shot by a city police officer overwhelmingly avoided violence Thursday after nearly a week of unrest and mounting public tension.
• Robin Williams faced the early stages of Parkinson's disease and was sober at the time of his death, his wife revealed in a statement on Thursday. News of Williams' battle with early stages of Parkinson's disease sheds some light on his last days as fans, family and friends grapple with the loss.
• Nouri al-Maliki, Iraq's prime minister for the past eight years, relinquished the post to his nominated replacement late Thursday, ending a political deadlock that has plunged the country into uncertainty as it fights a Sunni militant insurgency.
• Ukraine said its customs and border service officials on Friday began inspecting a Russian aid convoy parked just beyond its border, a sign that the two countries were taking steps to ease mounting tensions over the shipment.