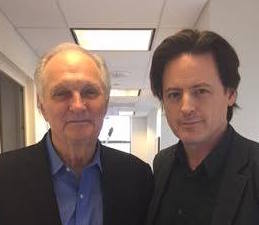 • John Fugelsang, host of "Tell Me Everything" on SiriusXM Insight 121, calls in at 10:30am ET / 7:30am PT for "Fridays With Fugelsang
• Dash cam video shows the black man fatally shot by a white South Carolina police officer get out of his car and then run away during a traffic stop. The video ends with what may have been a warning that the officer was about to use his stun gun. The officer is heard yelling, "Taser! Taser Taser!"
• A security guard stationed at the main gate of Census Bureau outside Washington, D.C. was shot Thursday and later died, authorities said, and the suspected gunman later led police on a chase through the district.
• Hillary Clinton is moving toward announcing her candidacy for president of the United States as soon as this weekend. The exact timing of any announcement is not clear, but this time frame is in keeping with widely reported expectations regarding her timeline.
• A tornado slammed the tiny Illinois town of Fairdale last night, killing one person, injuring seven and destroying homes across the town, authorities said. The tornado affected every single one of the 40 to 50 homes and buildings in the tiny town.
• President Obama is set to meet face-to-face with his Cuban counterpart Raul Castro today, the first time the leaders have interacted since their nations agreed to renew diplomatic relations after half-a-century of enmity.