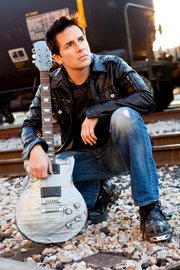 • Sexy Liberal Hal Sparks joins us in the Los Angeles Bureau at 9am ET / 6am PT for all three hours of Humpdays With Hal
• Rep. Gwen Moore (D-WI) calls in at 11:30am ET / 8:30am PT to talk about the Violence Against Women Act and the GOP's War on Women
• Mitt Romney won the Republican primaries in Kentucky and Arkansas on Tuesday, victories that puts him within striking distance of clinching the Republican presidential nomination.
• Casting himself as "Middle Class Joe" in a speech to 450 people at Keene State College in New Hampshire, Vice President Joe Biden used layman's terms to argue that the presumptive GOP presidential nominee's private equity experience "no more qualifies you to be president than being a plumber."
• Despite a volatile and eventful past few weeks in the early presidential contest, President Barack Obama continues to hold a small – and slightly narrowing – lead over Mitt Romney, according to a new NBC News/Wall Street Journal poll.
• Regulators are looking into a report that Morgan Stanley, the lead underwriter for Facebook's initial public offering last week, shared a negative assessment of the social network with major clients ahead of the IPO.