• Actor and Obama surrogate Jason Alexander calls in at 9:45am ET / 6:45am PT to tell us about his efforts to get out the vote in Florida
• Rep. Adam Schiff (D-CA), member of the House Intelligence Committee & House Appropriations Committee calls in at 10am ET / 7am PT to talk about Romney's foreign policy speech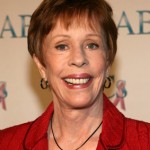 • Comedy legend Carol Burnett calls in at 11:30am ET / 8:30am PT to talk about her career and the release of The Carol Burnett Show on DVD
• President Barack Obama charged on Tuesday that Mitt Romney favors a foreign policy that "gets us into wars with no plan to end them" and that if the Republican had his way American combat forces would still be in Iraq.
• President Barack Obama encouraged supporters on Monday to be "obsessive" about working for his re-election in the final weeks of the campaign, declaring himself confident that he would win on November 6.
• Mitt Romney said on Tuesday that he has no plans for abortion legislation if elected president, a statement that is more moderate than ones he's made on the issue in the past.
• The Obama campaign said yesterday it was weighing a request from the Sesame Workshop to stop using Big Bird in its attacks on Mitt Romney.