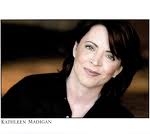 • Comedian Kathleen Madigan joins us in the Los Angeles Bureau at 9am ET / 6am PT for all three hours
• Graeme Zielinski, communications director for the Wisconsin Democratic Party, calls in at 9:30am ET / 6:30am PT to talk about the recall vote today against Gov Scott Walker
• Charlie Pierce of Esquire's Politics Blog calls in at 10:30am ET / 7:30am PT to preview today's historic recall vote in Wisconsin
• David Shuster, correspondent for Current TV, calls in at 11am ET / 8am PT to tell us what he's found with his on-the-ground reporting in Wisconsin
• Public polling, internal polling and campaign strategists all tell the same story: GOP Gov. Scott Walker is clinging to a tiny lead over his Democratic opponent, Milwaukee Mayor Tom Barrett, heading into today's recall vote in Wisconsin. Both parties are now focused on getting out the vote today.
• President Obama on Monday courted women voters as he urged the Senate to approve a bill that aims to narrow the gender gap for the wages of American workers.
• George Zimmerman's lawyers have vowed to file a motion asking a Florida judge for a new bond hearing for their client Monday, a day after the murder suspect returned to jail on a judge's order.