• The Rude Pundit calls in at 9:30am ET / 6:30am PT to talk about the presidential debates, the perversions of Allen West, and the ridiculousness of Paul Ryan
• Eric Boehlert, Senior Fellow at Media Matters for America, calls in at 10am ET / 7am PT to co-host Right Wing World
• Minnesota Vikings punter Chris Kluwe calls in at 10:30am ET / 7:30am PT to talk about the battle for marriage equality in Minnesota and across the nation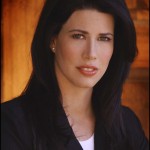 • Actress Melissa Fitzgerald ("The West Wing") joins us in the Los Angeles Bureau at 11am ET / 8am PT to talk about her new web series Chasing The Hill and the news of the day
• President Barack Obama opened a two-day fundraising swing through California on Sunday with a "30 Days to Victory Concert." He also seemed to poke fun at his own listless debate performance last week against Mitt Romney.
• Mitt Romney plans to deliver a foreign policy speech today in which he will try to reverse some of his perceived missteps, as the GOP candidate looks to bolster his foreign affair credentials in the weeks remaining before the election.
• President Barack Obama says a new report showing that the unemployment rate has dropped below 8 percent is a sign the still-sluggish economy is moving forward. But Obama says more needs to be done.