SiriusXM Insight 121 host Dean Obeidallah calls in at 9:30am ET / 6:30am PT
Bob Cesca of "The Bob & Chez Show" Podcast and Salon.com, calls in at 10:00am ET / 7:00am PST.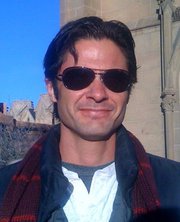 Karel Bouley from Free Speech TV calls in at 10:30 EST / 7:30 PST.
Carlos Alazraqui joins us in the Los Angeles Bureau at 11am EST / 8am PST for "Coffee With Carlos."
__________________________________________________________
Supreme Court Will Rule On Obama's Immigration Policy Before 2016 Election-President Barack Obama's executive actions on immigration, stuck in legal limbo for the past year, will get a Supreme Court hearing before the 2016 presidential election.
Trump lands Palin endorsement–Republican presidential candidate Donald Trump has scored his highest-profile endorsement yet in former vice presidential nominee and Tea Party favorite Sarah Palin, The New York Times confirmed with the Trump campaign Tuesday after day-long speculation.
Hillary Clinton Scores Endorsement From Biggest LGBT Rights Group-The nation's largest LGBT civil rights organization, Human Rights Campaign, endorsed Hillary Clinton for president on Tuesday.
"The endorsement comes at a time when the stakes could not be higher for the LGBT community," HRC said in a statement. 
John McCain Finally Ready To Advance First Openly Gay Army Secretary-Sen. John McCain (R-Ariz.) is letting Eric Fanning get a confirmation hearing for his nomination as Army secretary. It only took four months!-Sen. John McCain (R-Ariz.) finally set a confirmation hearing for Eric Fanning, who President Barack Obama nominated months ago to be the secretary of the Army.