John Fugelsang, Comedian & Host of 'Tell Me Everything' on SiriusXM Insight, Ch 121 – Hr 1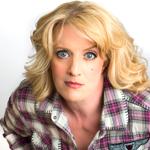 Suzanne Westenhoffer, Comedian – LIVE, IN STUDIO – HR 2


Frangela, Pop Culture Pundits & Legendary Comedy Duo – LIVE, IN STUDIO – Hr 3
Top Stories
It's a Friday, and after a Thursday where Democrats were handing out Republican asswhuppings and candy, they seemed to have ran out of candy around breakfasttime on Thursday.
Thursday began with a meeting between Sen. Bernie Sanders and President Obama about the Democratic Primary, and after the speech, Sen. Sanders came out of the White House, effectively acknowledge he'd lost the Democratic Primary, and vowed to go all in on Donald Trump. Shortly thereafter, President Obama released his official endorsement of Sec. Clinton in a three-minute video, that made it clear he is fired up for Hillary Clinton, and ready to hit the campaign trail. In fact, Obama and Clinton have already scheduled their first campaign appearance for next week.
Things really got ramped up in the evening, however, as Sen. Elizabeth Warren and Vice President Biden gave blistering speeches and attacks on Donald Trump and all the Republicans have and are enabling Trump, a a gathering of the American Constitution Society. Warren followed that up with her own official endorsement of Sec. Clinton on Rachel Maddow's Show on MSNBC.
And what were Republicans doing?
Most were backpedaling, trying to avoid questions about Trump, and his latest scandal, the Trump apparently doesn't pay all his bills – an odd problem for a man who claims to be so wealthy. Not all Republicans are sticking with Trump, however. Sen. Lindsey Graham has made it clear he won't, and it now appears Republicans like Sen. Susan Collins may join him.
The general election has begun, and the Left is #FiredUp & #ReadyToGo