Bob Cesca of "The Bob & Chez Show" Podcast and Salon.com, calls in at 10:00am ET / 7:00am PST.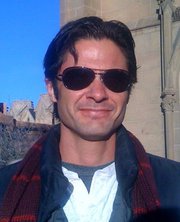 Carlos Alazraqui joins us in the Los Angeles Bureau at 11am EST / 8am PST for "Coffee With Carlos."
---
AP declares Clinton winner over Sanders in Iowa-The Associated Press has declared Hillary Clinton the winner of Iowa's Democratic caucuses.
The AP made the call after 1 p.m. Tuesday as Clinton maintained a 0.2 percentage point lead on Bernie Sanders with all of Iowa's 1,683 precincts reporting.
'Scott 'Brown will reportedly endorse Trump in N.H.-Former Massachusetts senator Scott P. Brown, a moderate Republican who two years ago ran for Senate in New Hampshire, will endorse Donald Trump at a rally here Tuesday night, one week before the state's presidential primary.
Republican wants Obama to explain Iran 'ransom payment'-Sen. Roy Blunt (R-Mo.) wants the Obama administration to provide details on more than $1 billion given to Iran, suggesting the money amounts to a "ransom payment." 
First US case of Zika virus in Dallas County, health officialsThe first U.S. case of the Zika virus has been contracted in Dallas County, local health officials said on Tuesday, adding there are no reports of the virus being locally transmitted by mosquitoes in the Texas county.