John Fugelsang, host of "Tell Me Everything" on SiriusXM Insight 121,in at 9am EST / 6am PST for "Fridays With Fugelsang."
Lisa Bloom, Trial Attorney at The Bloom Firm and Legal Analyst for Avvo calls in at 10 EST / 7 PST.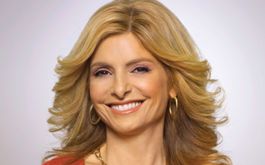 Frangela joins us in the Los Angeles Bureau at 11am ET / 8am PT for "Fridays With Frangela"
________________________________________________
Religious Leaders Rush To Trump's Defense After Pope Francis' Comments-Religious leaders voiced support for Donald Trump after Pope Francis implied that the Republican presidential candidate is "not a Christian."Liberty University president Jerry Falwell Jr., who is the son of the late televangelist Jerry Falwell, told CNN that "the pope is mistaken … I do believe Trump is a Christian." He added that "JFK would be rolling over in his grave right now." 
Jeb Bush Says He 'Probably Would' Nominate A Supreme Court Justice If He Were ObamaRepublican presidential candidate Jeb Bush on Thursday broke with GOP leaders on the issue of replacing Supreme Court Justice Antonin Scalia, who died last week. Asked whether he would nominate someone to the court if he had 11 months remaining in his term as president — a situation President Barack Obama finds himself in now — Bush said he "probably would."
Why Bernie Sanders Is In Deep Trouble In South Carolina. Without the black vote, Sanders doesn't stand a chance.A new Monmouth University poll shows that Democratic presidential candidate Bernie Sanders has struggled to make inroads with black voters in South Carolina. remained unconvinced that he would do a good job addressing concerns pertaining to African-Americans. Overall, 43 percent of black voters are confident in Sanders compared with 73 percent who are confident in Clinton.
Sanders hits Bill Clinton on welfare reform, trade-Bernie Sanders is running against Hillary Clinton, but he made clear on Thursday that he's still no big fan of her husband, former President Bill Clinton.