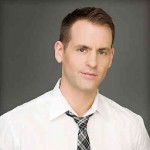 Matthew Breen, Editor in Chief of "The Advocate", joins us in the DC Bureau at 9am ET / 6am PT to talk about the LGBT history made with President Obama's re-election
Charlie Pierce of Esquire's Politics Blog joins us in the DC Bureau at 10am ET / 7am PT to give us his impressions of President Obama's inauguration
David Bender, Political Director for Progressive Voices, calls in at 11am ET / 8am PT to talk about the history made with yesterday's inauguration speech
President Barack Obama delivered a forceful defense of the nation's safety net programs, and vowed to expand gay rights and tackle the problem of climate change in his second inaugural address Monday afternoon.
President Barack Obama and his wife Michelle shared a tender dance while Jennifer Hudson sang Al Green's "Let's Stay Together" at the Commander in Chief ball Monday night, hours after he swore the oath of office during the public inauguration.
Republican leaders in the House of Representatives have scheduled a vote on Wednesday on a nearly four-month extension of U.S. borrowing capacity, but the bill does not specify a dollar amount.
Hours before President Barack Obama's official swearing-in to a second term, top Democrats predicted a victory for universal background checks, the broadest component of the White House's push to change the nation's gun laws.