• Karl Frisch of Bullfight Strategies calls in at 9am ET / 6am PT to talk about movement in the GOP's government shutdown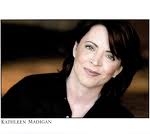 • Comedian Kathleen Madigan joins us in the Los Angeles Bureau at 9:30am ET / 6:30am PT to hang with us for the rest of the morning
• Suzanne Somers calls in at 10:50am ET / 7:50am PT to talk to Steph about "The Change" and to promote her book, "I'm Too Young For This!"
• Bob Cesca of The Daily Banter calls in at 11:30am ET / 8:30am PT to talk about the debt ceiling and the upcoming financial apocalypse
• Multiple House Republican members and GOP leadership sources say that leaders are preparing a proposal to raise the debt ceiling temporarily in order to avoid default while keeping the government shut down. President Obama has said he'd be open to this idea.
• Janet Yellen, the first woman to be nominated to lead the Federal Reserve, is receiving early praise from Dems and is likely to face a far smoother Senate confirmation than Lawrence Summers, the man who was widely seen as President Obama's top choice to lead the central bank.
• Libya's state news agency says Prime Minister Ali Zidan, abducted by gunmen at dawn, has now been freed and was seen on his way to his office.